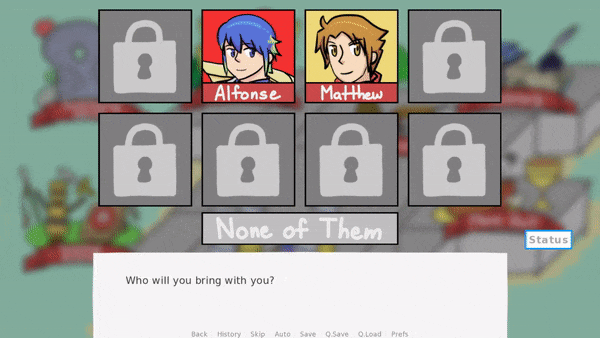 Hello everyone! It's been over a month since Romancing of Heroes: Boy's Side has been released. As of writing this devlog, RoH: BS has gotten 440+ downloads. This is currently my most downloaded game on itch.io and I would like to thank you all so much for your support.
So, there's good news and bad news. Let's start off with the bad. RoH: BS was going to have a sister project in the works: Romancing of Heroes: Girls' Side which would've been in development for this year's Yuri Game Jam. Due to the work to be done for Boys' Side, Girls' Side will not be coming out this year. I'm hoping to get to work on it next September!
On to the good news: v1.0.0 is currently in the works! It will include the following updates:
New menu for choosing a Hero to go to battle with you (pictured above)
Anna's Shop will be open for business!
Two neutral endings
A new romance-able Hero! (Hint: he can be summoned with Green Summon Stones)
Other minor technical stuff that will be detailed in the changelog that will be packaged with the upcoming update
I'd like to thank you all again for your support. See you in v1.0.0!
Get Romancing of Heroes: Boys' Side
Comments
Log in with itch.io to leave a comment.
Hey, are you still working on the project or did you abandon/suspend it?